A dramatic coastal profile
If you drive along the E4 highway between Härnösand and Örnsköldsvik, you can't miss Skuleberget mountain – close to Docksta in Kramfors municipality, the cliff face drops almost vertically down to the road, a perfect example of how land uplift has created the High Coast's dramatic topography.
When the massive ice sheet on the High Coast receded about 10,500 years ago, Skuleberget was as about prominent as a small skerry in an ocean. Since then the mountain has risen 286 meters above sea level. From the vantage points at the top there are a panoramic views of the sea and the High Coast's broken landscape.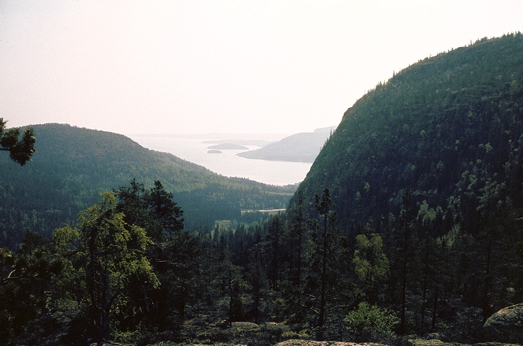 The history of Skuleberget
With its dramatic profile, Skuleberget is an important landmark in the Ångermanlandic landscape. The current route of the E4 highway emphasises Skuleberget's position on the edge of the braod Skuleskogen forest, but the mountain was already a landmark on the first maps of Scandinavia. When Linné passed through in 1732 during his Lapland trip, he described his experience at Skuleberget like this: "We scaled the cliffs, crawled, slid, pulled ourselves up, grabbed a bush or rock with one hand, which if it had come loose, as it easily could have done, would have been et actum de vita nostra (= the end of our lives)".
The mountain also has a prehistoric significance. The royal cave on the eastern side of the mountain was probably formed when ice and water mounded the mountain side. Archaeologists at the 160-meter level have found traces of settlements likely to be used as hunting stations by people for 8,000 years ago.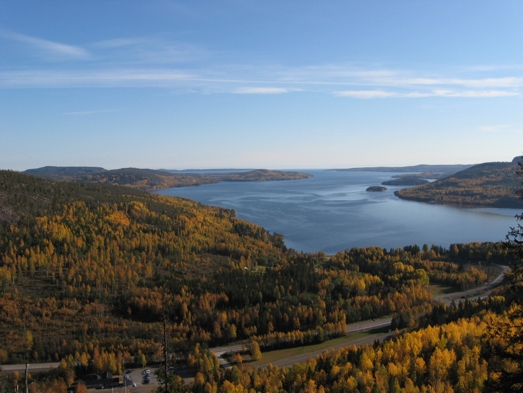 Skuleberget is a so-called southwest mountain with a local climate that is milder than the surroundings and beneficial to more plant species. On the eastern side there is a ravine that has a sheltered position. There is almost greenhouse heat in the summer and species of special botanical interest grow there.
Skuleberget is a south-facing mountain with a sheltered ravine on its eastern side and a local climate that is milder than the surrounding area, one which favours a large number of plant species. In the summertime, the sun heats up the rock face until it's almost as warm as a greenhouse and several plants of particular botanical interest flourish there. Norway maple, a northern occurrence of hazelnut and lime tree, angular Solomon's seal (Polygonatum odoratum), enchanter's nightshade (Circaea alpina), Actaea spicata, guelder rose (Viburnum opulus), fly honeysuckle (Lonicera xylosteum), ostrich fern (Matteuccia struthiopteris), perforate St John's-wort (Hypericum perforatum), hairy rock-cress (Arabis hirsuta), basil thyme (Acinos arvensis), mountain currant (Ribes alpinum), peach-leaved bellflower (Campanula persicifolia) and violets all grow on the mountain.